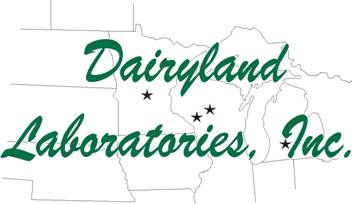 Dairyland Laboratories is a full service agriculture laboratory. Our services include testing for: feeds, forages, water, molds, yeasts, mycotoxins, particle size for grains and forages, VFA analysis, corn silage processing, in vitro analysis, manures and soils. Dairyland strives for quality analysis through reliable and accurate testing. Dairyland participates and is certified with the following organizations: National Forage & Testing Association, American Association of Feed Control Officials, National Voluntary Laboratory Accreditation Program, Minnesota Department of Agriculture, Minnesota Department of Health and North American Proficiency Testing.
Dairyland began in 1958 offering laboratory testing for milk and water. Today, Dairyland has evolved into the largest feed and forage laboratory in the United States. Dairyland receives samples from 42 states, all the providences of Canada, Central America, Europe, Far East and Africa. Our customers include consultants, nutritionists, veterinarians, feed companies, feed dealers, extension services, land grant colleges and livestock producers. Our services are provided through 4 laboratories strategically located throughout the Midwest.
The strength and success of Dairyland is attributed to our staff, our repeatability of our work and our satisfied customers. Dairyland's staff provides the knowledge, training and experience which has become a vital link to customer service and support. We continue to be an industry leader from our database of over 1 million samples which is our foundation. We continue to provide leading edge technology and testing procedures that places Dairyland at the industry forefront.